Chefs@School ~ Hermanus Wedding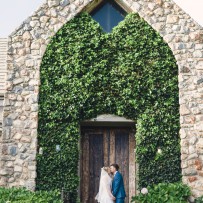 Tess, our local Honey (shop) and Kobie were married at Ertjiesvlei, the first chapel to be built in the Hemel-en-Aarde Valley.  It was an intimate wedding with their respective Families and closest friends.  After celebratory drinks their guests were ushered to the Class Room Venue for their reception. They were greeted with a Harvest Table of Homemade pate's and preserves, crusty breads and local cheeses and served Homemade Lemonade, Bubbly and Beers to ease the heat of the day.
The decor was light and airy, simple wooden boxes filled with hues of lilacs, blush pinks and whites topped the Gold and Cream striped runners. Little carriages filled Strawberries and Cream Lindt choclates were gifts for the guests from the couple.  Being big Game of Thrones followers, their entrance song was the theme song to the series.  Kobus, an avid Metalsmith, made their wedding bands.
Under the watchful eye and hands on assistance of Chef Kevin Warwick of the Class Room Venue, also know as the Chef School, the plated main course served was Roast Leg of Lamb with Chicken Ballotine, roast potatoes, accompanied by Table Salad and Roast Vegetables.   The Wedding Cake, made by Tess's Aunt was served as dessert with a berry coulis and homemade ice cream.    Kevin is also an Awarded Member of the South African Chef's Association.
Thank you to Ryan Parker www.ryanparker.co.za for the lovely images.