Neighbour Newbies ~ Hermanus Wedding Spookfontein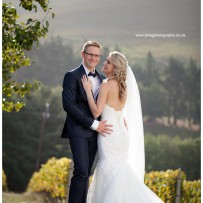 New to the area, Martin and Belicia decided to settle in Hermanus and start their life as Husband and Wife here.  It was not their initial plan when they decided to get married in Hermanus as it has been a family Holiday destination since Martin was a wee one.  In fact, he even booked their Honeymoon at a Guest House, only a few blocks away from where they decided to settle.
Martin's mother, his personal trainer both from the Gauteng area were responsible for the decor as this is his mother's passion.  The cake was made by his Aunt. It was such a hot day, that we had to move the 'cake cutting' to earlier in the evening as it was starting to melt and dip.  Her efforts never went unnoticed as this was the dessert too!
The ceremony took place on the patio of Spookfontein's restaurant. Seats were quickly removed and replaced with cocktail tables which held the cheeseboards, and a wine table to serve the Spookfontein wines.  After the couple returned from their photo's guests were treated to a selection of starters and mains, finishing off the culinary delights with the wedding cake, served with homemade ice cream and berries.   The dancefloor was held outside under the bedouin tent that housed the ceremony.
Welcome to Martin and Belicia, we wish them a Happy Future in our piece of Paradise.
Thank you to Jilda for her lovely photographs… jildagphotography.co.za.