Serbian Sentiments ~ Hermanus Wedding ~ Sumaridge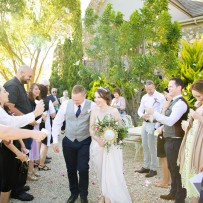 Anja, originally from Serbia, and Malcolm, shared their nuptials on a perfect Summer's day at Sumaridge Wine Estate.  They both reside in Gauteng, but Malcolm's parents live in Hermanus and the couple share lovely memories from Hermanus too.  What a magical place to start your journey together as Husband and Wife.  All the guests wore a sprig of rosemary tied with ribbon representing the Serbian Flag as a boutonniere, both men and women alike as part of their tradition.  Malcolm's mother made a traditional brandied fruit wedding cake which was later enjoyed as dessert with Creme Anglaise.
After the ceremony, Sumaridge Wines, beers and ciders,  were served in the Rose Garden overlooking the dam, with  panoramic views of the valley as their backdrop. Canapes were float served while the Family and Couple had their their photo shoot.  The intimate group were ushered into the Tasting Room at Sumaridge where they were treated to a Mediterranean styled buffet with Slow roast lamb, Whole Grilled linefish, individual crustless quiche lorraine, caprese salad, crispy roast potatoes and salads.
The decor choice was raw wood coupled with various hues of greenery, and blush and white tones inbetween with white table lanterns lending height to the table.  The chairs were Sumaridge's own,  a modern twist to the traditional 'Riempie' chair with white leather strapping.  Guest gifts were tubes of various spices which Anja sourced herself.  Her hairpiece was a beautiful gold metal detailed headband which was brought from Serbia by her family.
Thank you to www.sonjaludwickphotography.co.za  for the lovely images.