Amazing Grace – Hermanus Wedding at Sumaridge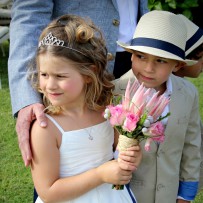 Despite a howling South Easter, Alex and Ohna celebrated their Hermanus Wedding on the natural grass platform at Sumaridge with unsurpassed views of the magical valley.  The ceremony was held on the lawns adjoining the majestic stone building, elevated above the dam and reception area.  Guests who traveled from Holland and afar, were served the renowned Wayfarer champagne with floating canapes after the ceremony and all were roped into photographs against the natural splendor of the building, the dam, willow trees and the valley as a backdrop.   The reception was held in a Bedouin tent housing the dancefloor, bar, buffet and seated area.
The main course was a Mediterranean influenced buffet which was introduced by Herman of Farm254. Whole sirloin,  whole kabeljou fish, 4 cheese tortellini, caprese salad, ricotta stack, royal potato salad, stuffed chicken breasts, mussels in a buerre blanc sauce,  to name but a few of the dishes served.  Our bride decided against the traditional wedding cake and instead, served a croquembouche (Profiterole tower which is a traditional french wedding cake), coffee mocha mini cupcakes and brandy snaps.   As a surprise, Ohna's teenage daughter arranged a surprise chocolate mousse cake topped with white roses and encased in a wall of laced white chocolate which was brought in during her speech to her mom, very few eyes remained dry.
As a personal gift for the men, the groom bottled his secret braai spice mix, and the ladies received Charlotte Rhys lip balm.  The decor was simple, yet stylish. Tablecloths were stone striped with the centrepiece being a cement based urn filled with local fynbos/proteas and surrounded by glass votives.  Oak barrels formed the base to the buffet as well as two self-serve coolers made from Oak barrel stays and braces.