Beach, Bubbles & Blue ~ Hermanus Beach Wedding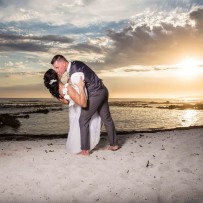 Rene and Frans celebrated their Hermanus Beach Wedding on Sandbaai beach, just outside of Hermanus. It was an casual, intimate wedding of family and close friends, and their 5 children from their respective previous marriages.  The Wedding was not just a union of two adults in Love, but also of the children who now are part of this Happy Household.  Their connection to Hermanus is Frans' mother who resides in the area.  The decor was playful and typically beachy with Turquoise and Aqua being the base colours. Guests were handed an ice cold ice tea in little bottles which doubled up as gifts.  Champagne was served in embossed champagne flutes which guests also kept as gifts.
The recepiton was held at a local restuarant.