Car Port to Corporate Party ~ SANSA Hermanus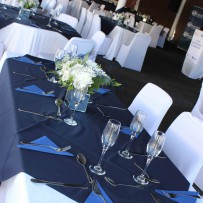 SANSA (South African Space Agency) Hermanus,  the former Hermanus Magnetic Observatory celebrated their 5th Anniversary in their outside Carport, the perfect venue!  We transformed this tar lined, roofed carport into a wonderful Luncheon Venue with seating for their 70 staff, a refreshment station and buffet area.  The day was hosted by Managing Director of Space Science, Dr. Leigh-Anne McKinnell.    The decor was simple, in their colours of blue hues and white.  Little flower posies were tied inside the mirrored vases so that guests could take them home.  Helium filled balloons added a bit of cheer around the venue.
The menu provided was substantial, including home made Malva Pudding with fresh berries, custard and ice cream.  The celebratory cake was cut and boxed for guests to take home.