Cinderella Weds her Prince – Hermanus Wedding at ELL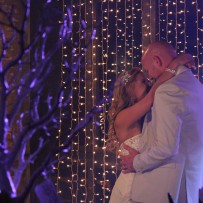 Our own Cinderella, Natalie, walked down the aisle in her size 3 slippers,  to marry her Prince, Shaun,  against the majestic backdrop of the panoramic beauty of the Hemel-en-Aarde Valley. Not even the 65km knot South Easterly Gusts were able to deter the magnetism between these two 'lovebirds'.   They chose Ell Ethical Eatery, housed on the Spookfontein Estate as their Wedding Venue in Hermanus.  The building, an architectural masterpiece is built on the Estate, and were they exchanged their vows.  As our bride stepped onto the balau verandah, a butterfly hovered over her face and disappeared, it was magical.
After the ceremony, their guests enjoyed Mojita's  served in glass bottles with paper straws in Bashew Crates accompanied by Ell's organic anti-pasta smorga boards adorned with homemade organic produce as starters, free-range meats in the form of Lamb Shank and Chicken Ballotine, with crispy roast potatoes and veg for mains,  and a choice of Velvety Chocolate cups or  Fresh Berry filled Pavlova with whipped cream for dessert.  This gourmet spread was prepared in their open kitchen,  the counter wall illuminated with turquoise behind frosted glass panels.  Not your average country venue!!
The decor style was simple yet chic, a touch of the ocean with a hint of bling.  The flowers were a gentle mix of vintage hues in mirrored vessels.  I couldn't resist taking of photo of Cinderella's 'slippers' when she removed them for the garter and bouquet toss!  As a seating plan, a faux white tree was used to hang the table numbers, these were then removed and replaced by little wishes that guests wrote on pre-strung cards.  Fairy light curtains added the whimsical atmosphere as the sun disappeared beyond the horizon.  Entertainment was provided by Jo Martin Band who kept the guest entertained, and sweeping the dancefloor. The heart-filled cake was created by Leigh's cakes and topped with our little 'lovebirds'.
Our Newly Weds were the last to leave, Cinderella with 'slippers' in hand, and her Prince at her side.