Spookfontein ~ Corporate underCover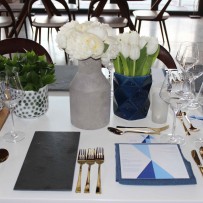 Spookfontein was host to a group of VIP guests on Saturday evening, being their main group dinner.  The company was offered an array of options to celebrate these few days together, inlcuding Mauritius, but Hermanus won the vote!  They enjoyed various activities over the 3 days they were here, savored our wines, enjoyed our restaurants, and left as potential 'newbies' to Hermanus.    Our brief was simple, make our clients feel like VIP's, but make them feel at home!  We had to sign confidentiality agreements of non-disclosure and a security brief were part of their entourage, but the guests were relaxed and had a wonderful evening to the extent of their arranged transport having to wait quiet a while before leaving.
Guests were welcomed with Genevieve MCC from the valley and miniature gourmet canapes. The room was warmed to counteract the cold winter's night with Italian gas heaters with glass cylinders to compliment the Scandinavian choice of decor.  The company colours of blue and white were subtle in their simplicity.  White tulips and Peonies were imported and deconstructed into hexagonal vessels.  Instead of the usual wine list choice, we had waiters offering different wine choices through the evening so guests had the opportunity to savor many delectable wines from the Hemel-en-Aarde valley.
As part of their speeches, the joke was that a large contingent of their group were house hunting and had packs of Property brochures, to the point that one couple were given a 'penalty drink' for stealing company time to look for a potential property purchase.
The menu chosen was a choice menu which ended with chocolate torte and creme brulee that left our guests in awe, and wanting more. Hermanus, once again, proved it's hierarchy.  Spookfontein were applauded for their venue, their wonderful food and the Spookfontein Wines.