Ell, Spookfontein – Wedding Cheer around the globe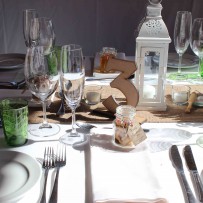 Lindsay and Martyn were married on 2nd April 2015 at Ell on the Spookfontein Estate.  This group of guests were a more mature crowd as most of their friends were awaiting their return home (London) to celebrate a second Wedding Reception.  Lindsay, an ex South African brought Martyn to meet all her family and friends from her youth and celebrated this reunion with their marriage.  Well travelled, we created a universal seating plan using countries they had frequented and had a large display of photo's from around the globe so they could share their experiences with the guests.
We erected a tent over the entrance area to the restuarant as rain was expected, but we were blessed once again with wonderful weather, and the tent shielded guests from the heat of the day, in place of rain.   Later, it was the protection from the fresh mountain air.
The menu was mouth watering, I just had to take a photo of the cranberry and nut cambrini.  The decor style was simple, country chic boasting our local flora.  The gifts were little glass clipseal jars filled with honey 'meant to bee', nuts for the men 'nuts about you' and smarties for the children 'whatalotigot'.    The wedding cake was made by her Aunt, a Chocolate Frangelica cake covered in kg's of white chocolate, yum!
Entertainment was provided by one of our local service providers an electronic saxophonist during the ceremony, a twist on the normal strings.  A jukebox with a touchscreen interface took the place of a DJ.  A pre-selected playlist was compiled for background music during dinner and another for the energetic party-goers later.  Even Gran was on the dancefloor.  This was truly a 'cheerful' wedding with smiles all round!