Ell Wedding Hermanus ~ Elegant flair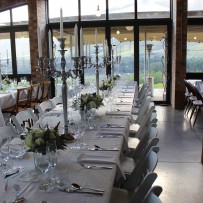 Daan and Elsbeth were married at ELL in the Hemel-en-Aarde valley on Saturday, 25 July 2015, on a crisp winter's evening.  Both in their senior years, they wanted a venue that appealed to their sense of elegance combined with their love for good food.  Wayfarer, Sumaridge's renowned Pinor Noir MCC was served to the guests to congratulate the couples union.  The menu included free range lamb shanks with a red wine jus, which was the perfect choice for the chilly eve.  Two cheeseboards with berry and peach cambrini's were served later during the evening for those who still had space for  a nibble.   Elsbeth, a lover of white roses, wanted simple decor with a bit of a sparkle. Tall candelabra with crystal garlands towered over simple arrangements in mirror vases, perspex mirror table numbers and clearcup t-lights with a diamante belly band.
Ell, situated on the Spookfontein estate also offer the opportunity of tasting the Spookfontein range of wines.  Their affordable range is available to patrons to enjoy with their meals, both at functions and everyday, lazy luncheons.
You can see by the photo of the sweeping valley why they call it Hemel-en-Aarde, Heaven and Earth.