Ell Wedding – Sunshine and Roses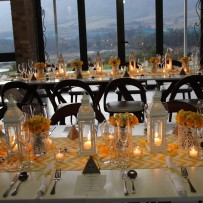 Yellow, corresponding with earth, is considered the most beautiful and prestigious color. The Chinese saying, Yellow generates Yin and Yang, implies that yellow is the center of everything.  Yellow also represents freedom from worldly cares and Yellow is also symbolic of heroism.  Most importantly, to the newlyweds, it has a sentimental meaning.
Phillip, a Dog Behaviourist, and Marlene celebrated their Hermanus Wedding at ELL on the Spookfontein Estate in the cold month of July.  Fortunately, they were blessed with a beautiful warm day, not a breath of wind, and clear sunny skies.  Their Wedding was an intimate affair, so they were able to choose an interesting,  multi-course menu.  Directly after the ceremony, ELL's special G&T was served.   Chef Charl and his team impressed the guests with a Beetroot carpaccio with winter melon, basil and goats chevre ~ a small taste explosion, followed by Smoked garlic and cauliflower soup with parmesan crisps, then Mini line fish cakes with olive, sundried tomato and caper tapenade on a bed of herb lettuce.  Thereafter a Courgette and lime risotto with Camembert was served and followed by the last main of Fragrant chicken and vegetable korma served with basmati rice naan and sambals.   Of course, there was more to come, dessert, mmm, a delectable Malva flower infused creme brulee with a buchu and honey ice cream.  Oh, wait, there is more!  Well, there was supposed to be a Berry Cambrini with mascarpone, berry infused honey verjus, fruit and biscuits, but this was packed as a promise of the following day's festivities.  Being in Hermanus, guests don't go home after a wedding, they stay, and stay, and stay…
The gifts for guests were packaged in little triangular craft boxes decorated with little stones to form a paw (Phillip the dog lover!).  The flowers were tied into little posies, so when guests left, each of the ladies took their flowers home.  The decor was simple, and fuss free, a ray of sunshine.