Enchanted Forest ~ Uijlenes Wedding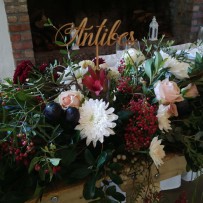 Uijlenes, just outside of Gansbaai was host to the Enchanted wedding of Cailyn and Jaco, both of whom work on a private super yacht abroad.  Each of the tables had names of ports they had called upon instead of table numbers which we had lasercut out of board.   Their main table was named Antibes,  where the couple were engaged on the French Riviera while berthed there.  Cailyn and Jaco's roots are in Hermanus, so they decided to exchange vows close to their family and friends.   Their theme was an Enchanted Forest, so they were wed in the forest "chapel", part of the Uijlenes venue.  under the natural canopy of Oak trees.  Canapes and Champagne were served under the enclave in the forest before heading over to the reception in their 'barn' venue.
The menu was a fusion of various dishes served 'harvest style' on the tables. White dishes on wooden disks were placed on the tables amidst the greenery and dramatic burgundy and deep tones.  Dark figs were used in the arrangement to tie in the harvest with the decor.  Individual Nougat bars were wrapped with their little wedding logo as a personal touch.   The decor was simple with the use of lots of fairy lights and a white canopy of draping lining the roof parted with rows of lights.
Official photo's are not yet ready, but I always take a few to share whilst setting up.  The family were involved in the hard work leading up to the wedding, friends from my youth, so it was very special working with them.