Less is More …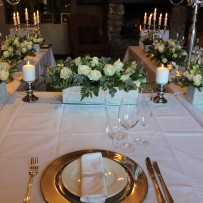 This lovely young couple chose Sumaridge's 'castle' to exchange their vows and Celebrate their Wedding Day in Hermanus.  Their small party of 15 were seated upstairs overlooking the beautiful vistas of the Hemel-en-Aarde valley.  We had experienced terrible weather prior to this day, and expected the worst, but alas, the day was perfect, the skies were clear, the breeze calm and the sun most welcome.
After the ceremony they enjoyed canapés and drinks in the Tasting Room enjoying the magical sunset whilst hearing about the award-winning wines this Estate has to offer.    Seating for the intimate reception was arranged in a u-shape with white cloths and chair-covers, silver candelabra, white roses and a bit of 'bling' to set off the evening.  A roaring fire kept the night chill at bay.
A simple dinner was chosen,  individual cheese and pate platters, except for the bride and groom who shared their first meal as husband and wife.  Main course was a traditional slow roasted lamb, roast potatoes, fritters, salad and vegetable terrine.  Crème-Brule with brandy snaps finished off the perfect evening.