Lindy and Spike in the mystical rain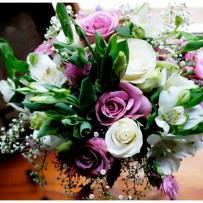 Set amidst the mountain views and dam at Beaumont Winery, close to Hermanus, Zest Catering outdid themselves once again with a Wedding Spread fit for a king.  In this case, the King and Queen, Lindy and Spike.  What a wonderful couple with the warmest family and friends closest to them to share in their celebration which went on until late on Sunday afternoon.  The cottages on the farm played host to the guests and was the venue for the 'after-party'.
Even the rain did not hamper the day in any way!   "The  final touches were perfect and the cellar looked exquisite, just the right blend of rustic and natural, with pretty and flowery. Guests were bowled over, by the comments I have been receiving, and the atmosphere was amazing – so much love and happiness in one little place."
Funnily enough, the soft drizzle almost gave the day a finer more special feel, from the verandah looking at the misty mountains drinking and celebrating, it was utterly beautiful.