Mustang Sally ~ Hermanus Intimate Wedding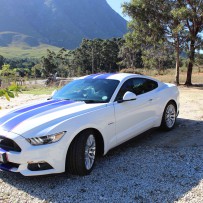 Kobus and Meagan were married in the first Chapel in our Hemel en Aarde Valley, established in 1926.  The Ertjiesvlei Hall, owned by the local NG Kerk is available as a venue for Weddings, Christenings, Milestone birthdays, and even kiddies parties on their expansive lawn.   A friend of Kobus' is the proud owner of a new Ford Mustang and as kind gesture escorted the bride, Meagan, to the Chapel and then on to their photographic stops and finally to the reception at the Class Room Restaurant.
Directly after the ceremony guests enjoyed a glass of bubbly and the wedding cake was cut.  Little boxes housing cupcakes were available to the guests to eat, or take home with them.
This was an intimate wedding, the confetti was dried rose petals that her colleagues from the guest house she works at collected for her. We filled then in little cones that the guest could just grab and toss the contents at them.  Meagan made her own menu's and thank you gifts which were pots of hot chocolate and marshmallows.  The Class Room which is elegantly furnished, does not need much in the line  of decor to create a wedding atmosphere, so the decor was kept simple to rectangular wooden flower boxes filled with proteas, (Repins white and red, Pink Ice, Susara, the dessert rose succulents and the strong texture of the air plant.), and a few candles.
The menu offered starters in the form a Harvest table of cheeses, cured meats, homemade pate's and preserves served with artisan breads, as the guests arrived from the ceremony and awaited the newlyweds arrival.  This was followed after their speeches by a main course of slow cooked roast lamb, chicken and mushroom Phyllo pie Roasted Croquette potatoes, a sauteed vegetable variety tossed in their secret sauce, and for dessert,  a moist Malva Pudding with Creme Anglaise and Fresh Berry Pavlova.  As always the presentation of the food was prestine, and a treat for the palate.