Polka Dot fun … Wedding Hermanus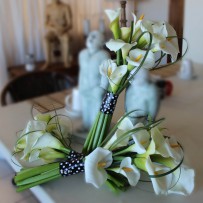 Jaunita and Stephan celebrated their Hermanus Wedding at Uijlenes on 20th September.  this is just the other side of Gansbaai, Shark Cage Diving hotspot.  They chose a venue that could accommodate all their guests, so driving was not an issue.  The formal photographs have not yet been released by the photographer, so we will update at a later stage, but thought you'd enjoy a preview of this unusual wedding so here are a few of my snapshots before the guests arrived.
The ceremony was held in the adjoining forest where canapes and bubbly were served before the guests moved over to the reception venue.  It is always risky planning an outdoors event, especially when our weather is so unpredictable, but the day turned out perfect.  The Wedding venue is an old barn that has been re-vamped but still maintains it's old, original  charm of stone built walls.  An elevated platform forms the dancing area which overlooks a large fire heath, exposed stone walls and a bar tucked away in a quirky shell.  The usual decor style followed here is vintage or country chic, but our young, vibrant couple opted for something a little more relaxed, what could be more fun than polka dots and lime!  I have to admit, initially I was a bit sceptical, but secretly looked forward to the outcome.   Various sized chinese lanterns in white, black and lime were hung from the 'tin roof' over the dancing area.  Larger white lanterns were hung from standing shepherd's hooks which formed the border of the dancefloor and were illuminated with lime LED lights.  The table decor was black and white polka dot cloths, with a lime runner.    Glass boxes with lime LED lights provided the table lighting and flowers were simple green and white in alluminium buckets.  Take home gifts were little pots of honey with the words 'Love as Sweet as Honey' on a personalized photograph.  The in-house caterers delivered an impressive,  3 course meal including their famous dessert selection.  The Wedding flower bouquets were young, white arum lilies, bound with a polka dot collar to add to the fun.