Proteas and Promises ~ Hermanus Wedding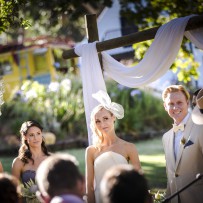 Kezi and Devin who reside in New York, renewed their nuptials at their Hermanus Wedding ~  Nidderdale Farm on New Year's eve… and into New Years Day.. in fact, we saw the Sun rise on the 1st of January 2017.  The outdoor wedding ceremony was held under the large oak trees followed by a Harvest Table and drinks on the sprawling lawns leading down to the dam.  The reception followed under Bedouin tent on the grassed platform at the further end of the celebration area.   A multi-led screen formed the backdrop to the DJ platform and played images of the vast travels experienced by the couple.  The DJ line-up alternated every few hours and continued into the light of the New day.   A 'souk' area was set up for those outside as a chill zone for later the evening.  Moroccan items of leather pouffs, various overlapping rugs, candles were hired in from 'The Souk' in Cape Town and Silver and Gold sprayed pineapples, (by the groom himself) added a quirky element to the decor.
The bedouin tent was skirted with warm fairy lights and inside exposed copper element bulbs we strung at different heights. The table decor was runners of greenery filled with white flowers and proteas, white lanterns nestled in-between with small glass t-lights. The name placing was a printed leaf of brown kraft pinned with a pearl head into a baby apple from the farm's start of season.  A small red bean was placed at each setting to reflect planting the seed and nurturing it through it's growth.  The long tables were not numbered, but names of countries special to the couple. Their theme of 'Proteas and Promises' was carried throughout as well as their personal insignia.
A tented kitchen was set up for catering.  For starters, a goats cheese and roasted cherry tomato tartlet with cheese pastry crust was served, accompanied by a shot of ginger & sweet-chilli sauce followed by a Spit Roast buffet.  For dessert, mini portions of typically South African desserts were served as well as the Wedding Cake ~ a Naked Cake adorned with mounds of berries. Guests were reluctant to leave and kept the dancefloor going until the wee hours of the morning ending at the Souk area to watch the magical sunrise.
Thank you Sarah Isaacs (http://sarahisaacsphotography.com/) for the stunning pics!