Real wedding: Sarita and Hennie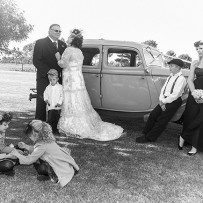 Amidst the storms, the morning's promise of good weather held true. Our bride and groom, Sarita and Hennie travelled from Messina to profess their love for each other in the presence of their family and friends.  Hennie's beautiful children were at the centre of the celebration,  dressed up in their vintage outfits, big blue eyes and blonde hair gazing at their new Mother.   The bride arrived at the ceremony at Rivendel in a 1934 Two toned Gold Ford, 
dressed in a gown lovingly created by her mother, the perfect compliment to the Vintage Affair.  The tables were adorned with Black Ostrich Boa's, Pearls, Red Roses and Beaded Gold Candleholders, something different and perfectly fitting.   Due to the long distance, I only had the pleasure of meeting the Happy Couple a few days before their wedding, which was wonderful.  Love and Laughter flowed well into the night and stole a touch of the morning hours!