Sumaridge and Harbour Rock – Spring Romance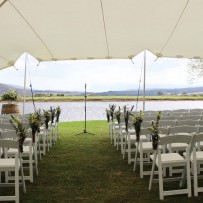 Before the professional photographs are edited, I thought I would share a sneak peak of this lovely wedding.  The enchanting Lindsay married her soulmate, Rodger, aka Harry, at the picturesque Sumaridge Wine Estate on Saturday 12th September alongside their majestic stone cellar.  The threatening weather held back and guests were treated to a beautiful view over the dam which stretches all the way to the coastline.  Most of the guests were visitors to Hermanus, so they were in awe at the Natural Splendour the Hemel-en-Aarde valley has to offer.    The ceremony of 110 was held under a large bedouin tent which also housed the bar, cake tower and the platters that followed the ceremony.  In place of a traditional cake, guests were treated to Granadilla infused cupcakes.  The wedding cake on top of the tower was enrobed in White Belgian Chocolate.  The platters served on wine barrel tops, offered smoked trout, and assortment of cheese, preserves and fruit.   The Sumaridge award winning wines chosen, were the perfect accompaniment to  the platters.
The Reception was held at the Harbour Rock restaurant nestled in the New Harbour, boasting an unsurpassed view of the harbour and Walker Bay.  The menu request by the client was a choice of 3 starters, 3 mains and 3 desserts.  The choices were pre-selected on their electronic invitation, so the place settings were set according to the pre-ordered dishes before the guests arrived.    The staff were amazing, not one guest was asked what they had ordered, their food all correctly placed in front of them. Compliments were abundant, the interesting choice of meals were beautifully presented and perfectly prepared.    The party went on until 2am, when we legally couldn't entertain them anymore.  You know it is a good party when the Bride and Groom don't want to leave, and ask you to look at every angle to beat the law.
The decor choice was simple, local fynbos in little glass vessels with a touch of white. Lace flower was used to soften the harshness of the fynbos and the couple had photographs printed of their engagement shoot as a novelty for the guests with a Disprin attached for the morning after.  Their pre-wedding dinner was celebrated at the Cattle Baron where the whole group were treated to a buffet dinner, and had the opportunity to meet and get to know each other before the 'main' event.   It was a very casual affair with the dress code being denims and white shirts.