Transparent Love ~ Die Woud, Hermanus Wedding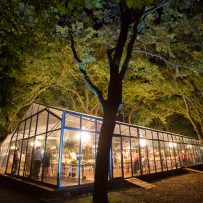 On a Perfect Summer's day in February, the Beautiful Sarah and Strapping Pieter were married in the open air chapel at Die Woud, Caledon, a small Town close to Hermanus.  After the ceremony guests through the forest to the reception area where a Harvest table with Cocktails and Bubbly  were served on the lawned area under the trees adjacent to the venue. A Boerewors station was also added for those big eaters, Pieter being a Rugby Lad!  Although the couple currently reside in Australia where they are both pursuing their respective careers but decided to celebrate their union among their family and friends, mostly from South Africa.
The venue itself is a transparent marquee with glass sides, and transparent Pvc roof.  The Dancefloor is under an attached bedouin tent, with the lounge area also being housed in the transparent structure.  All are supported by a large wooden deck.   The decor was simple yet stylish, natural tones with a touch of white.  The Catering was done by the venue themselves, starters were a deconstructed wild mushroom tartlet with caramelized pearl onions, garlic cream and garlic chips followed by Grille dBeef rump with a carrot puree, grilled zucchini and red pepper, a potato fondant and a rosemary jus.   The Naked Wedding Cake was served as part of the dessert buffet table which boasted a variety of sweet delights, including marbelled red velvet cheescake squares!! What a treat…
DJ Sox kept guests entertained from arrival at the Ceremony to keeping the dancefloor abuzz during the reception.  Giant Sparklers were lit as the couple opened the dancefloor with their first dance, and so the party began!
Thank you Lizelle Lotter for the lovely photographs http://www.lizellelotter.co.za