Winter Blessing at Sumaridge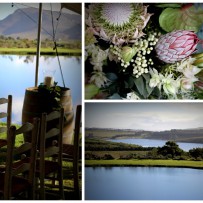 The dearest owners of Sumaridge Wine Estate, Holly and Simon, celebrated their Wedding Blessing (Renewal of Vows) amidst their Family, Friends and Neighbours of the Hemel-en-Aarde Valley.  Many guests flew in from abroad where this couple swallow between Hermanus and Home away.
Winter is a very difficult time to plan an Outdoor Celebration.  We were prepared for the worst, but dealt a pleasant surprise.  The afternoon weather was superb,  the skies were clear and even the South Easter behaved during the proceedings.  The ceremony was held inside a 25 x 15m Bedouin tent housing our guests, a four piece band, photo booth and 24 piece choir.  The Abagold choir blessed us with their harmonious performance bringing a tear to most.   After the ceremony Guests were ushered to the Tasting Room to enjoy canapés and drinks and take in the magical sunset and panoramic views whilst hearing about the award-winning wines this Estate has to offer.
This was our 'gap' to turn the ceremony area into the reception.  A hive of activity followed transforming the tent into an evening venue.  Mushroom heaters were lit as the evening air settled and guest returned to a transformed venue.  Crudites were served during the speeches, followed by a sushi and oyster buffet presented by the Harbour Rock on Glass platters and wasabi piped onto the platters as guests helped themselves.  Main course was a 'Hog Roast' and Deboned Whole Chicken served with Royal Potato Salad, Salads, Grilled Vegetables and under the insistence of the bride 'pap and sauce' prepared by Spit-Fire.    Dessert was a Croquembouche Tower of Profiteroles filled with vanilla mousse, drenched in Belgium chocolate and decorated with spun syrup.  This creation was made on a mirror disc and placed on a wine barrel by Anli van Vuuren of Hermanus.  I am sure you have gathered the theme for this wedding was 'vineyard'.  Dark green tablecloths and burgundy napkins were the base of the décor with a centrepiece of Blushing Brides, Cream roses, King Proteas and Fynbos. Traditional decorations of Corn Dollies, Sweepstakes, Table games made this a 'Wedding' with a difference.  A large kist filled with cushions, provided extra comfort from the cold.
The entertainment for this event was in the form of a four piece band, Almost Famous, who had the guests on the dance floor all night.  A photobooth provided a good few laughs where guests were able to 'act the goat' inside the booth behind a black curtain.  The last shuttle couriered our guests home at 1am, a good night was had by all!