Winter Wonderland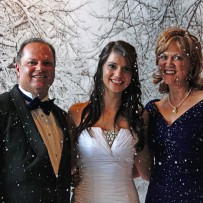 Let it snow, let it snow…
The beautiful Johanci (Snow White) celebrated her 21st Birthday at Arabella where it snowed on the dancefloor and at the photo display area.  The room filled with family from abroad, and friends from Varsity,  was illuminated in ice blue with fog filtering the dancefloor which was  edged by led lights embedded in snow.  The guests whirled away the night in the the snowfall.
What an evening!  Arabella's first snowfall.  The guests were enchanted, the birthday lady elated and the magic of the evening sparkled on.   The food was plentiful, the desserts pleasurable.   The whimsical ambiance was the talk of the campus when Johanci returned to her studies, a night she'll cherish and enjoy telling her children one day!  I was thrilled to have the opportunity to do something so different in our quiet part of the world,  we rocked the night and even the Gautengers were impressed.
The loving bond between this family was evident in the moving speeches and love they displayed openly to their loved ones and friends,  a very special evening for a very special lady.